Step 5: Try LESS (Yes,
Less

)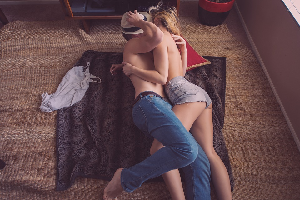 If you don't take any action at all, you'll never attract beautiful, high-quality women and you'll miss every good opportunity out there. Is this what you desire? No way, right?
Well, the answer is to attract women by becoming MORE of who you really are, not less. That way you get dramatically better results almost automatically without having to try so hard. And, your success is sustainable so you can keep dating the women you really like as long as you want.
Here's the secret: the less you get off your "true path" to try to get women, the more attractive you become as long as you insert your unique personality into the attraction-specific inner game processes, body language patterns, and conversation styles that make you as naturally attractive as possible.
I've seen literally hundreds of men learn to become "naturals" with women over the past decade. The ones who were the most successful - and that means they had the most gorgeous women chasing them, the most amazing girlfriends, and the best wives - were the ones who seemed like they were trying the least!
Over the past 13 years, I've developed a dating and relationship System for men that I call the "Inception Method." This is a step-by-step process of making it HER IDEA to keep talking to you, kiss you, hook up with you, date you, be your girlfriend, be your wife, and STAY with you as long as you want in a way that makes you MORE of who you are and requires LESS "effort" than memorizing routines or trying to "trick" women into liking you.
That's right: we don't try to trick women, run routines, put women down, serenade women outside their windows at night, or try too hard. We attract the women we want while becoming more of our real selves every day.
We value doing what works in the most natural, ethical way possible because we love women and want to get everything we want with them and feel GREAT about it.
The Inception Method is what allows you to breakthrough to ultimate dating and relationship success without giving up who you are or putting women down.
WARNING!

THIS IS NOT FOR EVERYONE!
I'm not going to lie to you: The Inception Method is definitely not for everyone. For example:
If you don't LOVE WOMEN, this is NOT for you (and why exactly do you want women so much if you don't even like them...maybe get some help?)
If you want to try to "trick" women into liking you instead of becoming MORE of your real self in the process of getting the women you want...this is NOT for you.
If you don't want to TAKE ACTION and apply the simple tweaks that will lead to your success, this is not for you.
I'm not going to lie: The Inception Method isn't MAGIC...it requires you to TAKE ACTION to apply proven success principles and insert your unique personality into proven success patterns to see the results you want.
Anything that gets you real, sustainable, permanently better results with the women you really want cannot be accomplished by simply sitting on your couch, never talking to women, performing magic tricks, or taking some kind of "magic pill."
However, it's easy-to-understand and everything is laid out for you step-by-step. Fair enough? Hey, if you're looking for "magic tricks," Google the "Houdini Method" and maybe you'll get lucky...If you want results that have stood the test of MILLENNIA, then read on.
You MUST be okay with taking action and making some adjustments in the short-term that make you more successful over the long-term. If you are, here's a System you've never seen before, AND you'll attract better-looking, higher-quality women by becoming MORE of your real self.
If you are really ready to get started on my exact Attract and Keep Her System that shows you exactly how to apply the Inception Method from the first moment you see a woman until you've been with her for 99 years, then click the button below and I'll take you to the next page.
On the very next page, I'll let you in on the specifics of my System, and how you can get started within less than 5 minutes from now.
WAIT!!!
As a gift for being so awesome and checking out this page today, I have an exclusive gift for you:
FREE

E-Book:

Inside this step-by-step guide you will DISCOVER:
What to do when a woman doesn't text you back...

The one text you must NEVER send any woman if you want to have a chance with her...

The 3 BIGGEST TEXTING MISTAKES men make and how to avoid them...

How to use texting to get her chasing you, spike her attraction, and keep her interested...

How to ask her to meet up...

MOST IMPORTANTLY: How to NOT screw up your chances with a woman with something as silly as texting...
19 Page E-book valued at $27 YOURS FREE!
OR:
Are You Sure You Want To Leave?
I encourage you to click the X at the top of this box to close this message, stay on this page, and claim your copy of Attract and Keep Her now so you never get broken up with again GUARANTEED...