Step 4: Avoid Getting Too Comfortable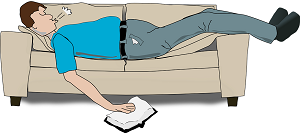 Did you know that love doesn't "fade over time?" What usually happens is that one or both partners get lazy and take the other for granted. Then, they start behaving in an unattractive way that they wouldn't have DREAMED of acting during the early stages of dating.
That's what causes a woman's feelings for you to recede, not "time." Don't let that be you so she STAYS completely in love with you as long as you want. After all, the stronger her feelings for you, the better she treats you.
Listen: you can maintain a woman's insanely strong feelings for you as long as you want!
The key is to be more of your real self from the beginning so it's relatively easy to maintain everything, treat her like you would on a first date for as long as possible, continue to date her as long as you're with her, keep taking care of yourself, and give her the 4 specific things that maintain a woman's strong interest in you as long as you want if you get it high enough in the first place.
If you do the first 3 steps correctly and then add in this 4th step, you will notice how she responds more positively to you every minute from the first moment you meet her until she's completely in love with you...and how she STAYS that way until YOU decide that she's not right for you or stay with her as long as you want...