Step 2: Stop Chasing Women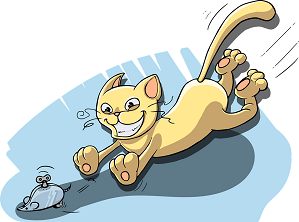 Chasing women can be fun, if you like never having them feel INSANE attraction for you and fall in love with you. Have you noticed how little men achieve success by chasing women? Sure, you should definitely LEAD, but that doesn't mean you should CHASE.
Women are programmed to AVOID you when you chase them, even if you're a great guy. Chasing women by going out of your way to meet up with them, stalking them on social media, texting them all day, buying them flowers, gifts, candy, and fancy dinners, writing them songs and poems, and serenading them outside their windows at night only pushes them away.
There's an attractive, natural way to actively encourage WOMEN to chase YOU...we'll cover that in a minute. And, the best part is that it reduces your chances of being "rejected," broken up with, cheated on, divorced, or left by a woman by over 90%. We'll cover more details on the next page.